Ralphie May Stand up Comedy Show in Naples, Florida
Ralphie May
Netflix- Last Comic Standing- Comedy Central
For 25 years now, Ralphie May has appeared at the biggest venues, slayed every late-night audience multiple times, recorded a special for every comedy-loving network on television, traveled the world for the USO and reached the level of popularity few standup comedians have attained. Yet little compares to the amount of exposure May received when Netflix exclusively launched his new comedy special "Unruly" on Februrary 27th, at the same time it released the new season of "House of Cards."
"That's the biggest launch in Netflix history," May said. "The wave for 'House of Cards' is a tsunami and I'm the fat guy trying to body surf. These guys are taking me to the middle of the country. They're taking me into people's homes. I'm the luckiest guy in America."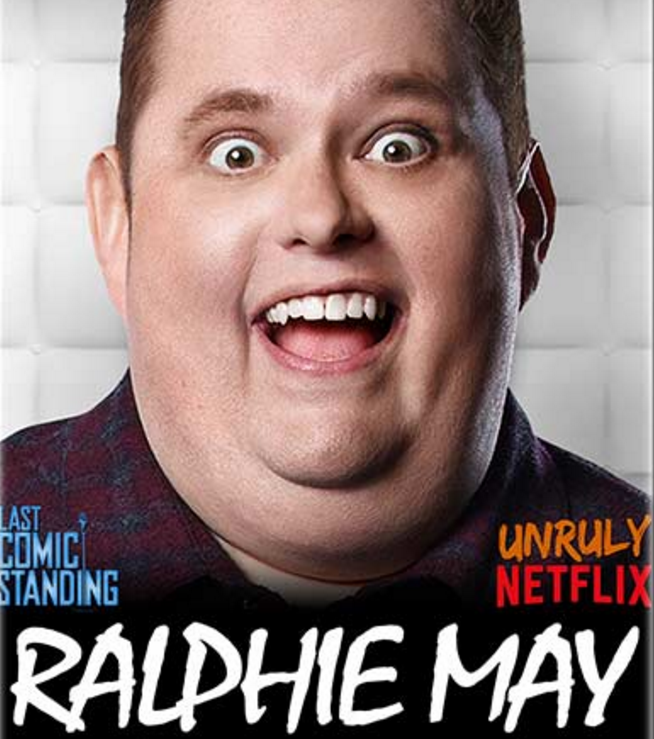 You could make the argument May already was among the luckiest, with a charmed career that's equal parts sweat equity and choking the life out of every opportunity that came along. He fell in love with comedy after performing at a church conference at age 13, and winning unexpected rewards. He turned professional at 17 when he opened for Sam Kinison after winning a contest as a dual-enrollment student at the University of Arkansas.
"He told me to move to Houston," May said, "so I didn't wait till graduation. I just left: 'I'm going to Houston to do standup.' And that was 25 years ago. It's crazy."
Houston was a comedy Mecca at the time with seven clubs and a thriving, competitive scene. May could work all the time, and he did, also landing a radio gig that helped expand his reputation. He eventually earned a spot on the first season of "Last Comic Standing," and though he finished second, he might as well have won (anybody remember who won that year?) with the way fans fell in love with his over-the-top persona.
The raw, uncensored hallmarks of his mentor Kinison are evident in May's set, laid out brilliantly over two hours in "Unruly," recorded in front of a raucous, fist-pumping crowd of thousands in Atlanta. But May doesn't deal in simple outrage, building a routine that's rich, deep and fearless. He's able to balance boyish charm, withering introspection and compassion for his fellow human being with some of the dirtiest, most honest observations you've ever heard.
"When I was a kid, my grandmother taught me how to crochet and how to quilt, and that's kind of how I do an act," May said. "I have one-liners, I have dirty jokes, but I also have long stories that are 10 or 20 minutes long and the laughs come every eight seconds. It's a different set. And it's a different life than most people have led."
In the uncensored and unfiltered "Unruly," he riffs on pop culture, race, his own excesses, the dangers of meeting Anderson Cooper and the mesmerizing deliciousness of Chick-Fil-A. With the increased visibility of the Netflix partnership, May hopes to fill the next 25 years of his career with even more breathless moments.
Viewership expectations are high. May debuted five specials over a decade on Comedy Central with each drawing record ratings. He also tours extensively and has made 19 trips into war zones to perform for troops with the USO and Wounded Warriors charity. And his popularity continues to grow. He and his family split their time between Nashville and Los Angeles, where he has television development deals for an unscripted reality show with Ryan Seacrest Productions and a scripted series with Will Ferrell's Gary Sanchez Productions.
Live Comedy : Genre: Rated PG-18Genre: Comedy
Please NOTE*  the floor chart provided is only a visual reference chart and not to be used for specific seating. The colors indicate the general location of the seats you are purchasing in each section.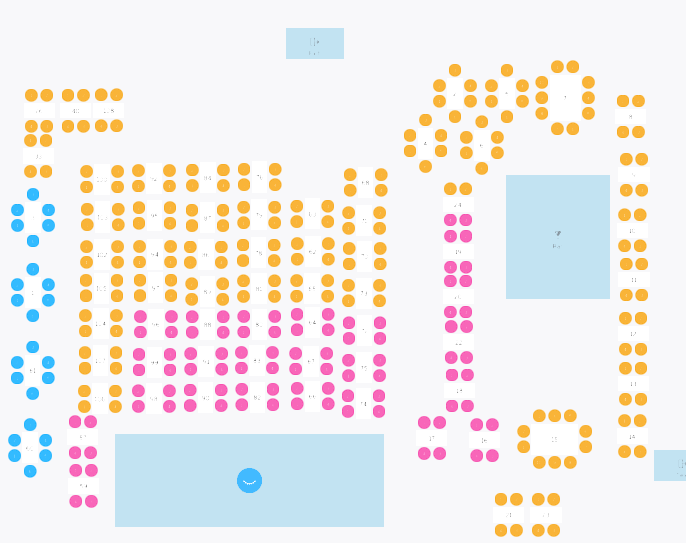 FAQs
Are there ID requirements or an age limit to enter the event
Yes you must be 18 to attend events with valid photo ID.  21 to drink Alcohol
Where can I contact the organizer with any questions?
You can call the box office anytime at 239-389-6901 or email us directly info@offthehookcomedy.com
Is my registration/ticket transferable?
ALL ticket are non transferable and Non Refundable please double and triple check your ticket purchase
Can I update my registration information?
Yes you can update your information
Related Events